Sunday, 14 June 2015 22:42
From 9th to 11th of June 2015, the Global Aeronautical Information Management (AIM) Conference 2015 was held at the Vietnam Air Traffic Management Corporation's premises. This is the conference of sharing best practice in transiting from Aeronautical Information Services (AIS) to Aeronautical Information Management (AIM) in the global coverage.
The conference scene
There were 235 delegates from 47 countries and international organizations, 16 providers of AIM-related service, equipment and system with 45 experts and consultants.
Delivered opening remarks, the Deputy Minister of Transport Pham Quy Tieu affirmed that Viet Nam was honored for the first time to host the Global AIM Conference in Ha Noi. This was one of the biggest events in the year 2015 that showed Viet Nam's aviation industry efforts to associate with the global community.
Being one of the air navigation services, Viet Nam's AIS is firmly developing. To meet new requirements on provision of timely, qualified aeronautical data and aeronautical information, AIS is transiting to AIM as planned by ICAO. Ministry of Transportation of Viet Nam approved "Aviation System Block Upgrade plan in Viet Nam" to emphasize the critical role of AIM and create the base for implementing AIM by organizations.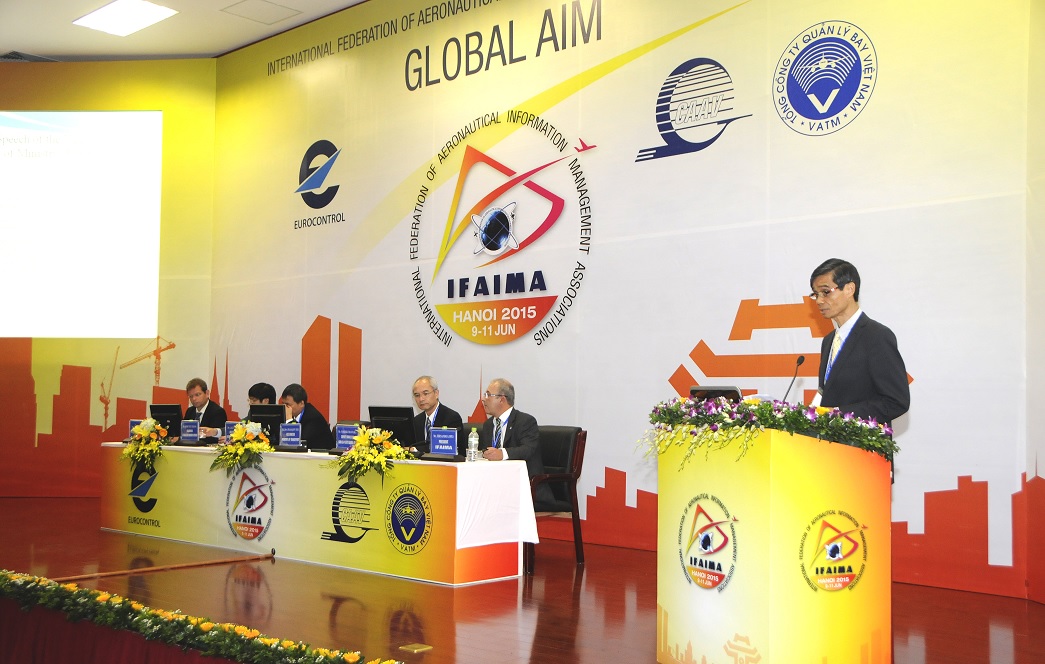 The Deputy Minister of Transport Pham Quy Tieu gave speech at the conference
"However, AIS-AIM transition is a long roadmap with a lot of challenges and difficulties. Therefore, Viet Nam expects to receive assistance from the global community to implement AIM that is harmonized with the regional and global tendency", Deputy Minister Pham Quy Tieu said.
During 3 working days, the delegates gave 28 speeches focusing on the theme "Implementing AIM - sharing best practice". Viet Nam also shared experiences in implementing 3 phases of AIS – AIM transition, progress in establishing electronic terrain and obstacle database, signing agreements with the data originators and important roles of AIS to Vietnam Airlines' flight operations.
Apart from joining the conference, the delegates had chances to discuss with and gain more information from such providers of AIM-related service, equipment and system as Comsoft, Frequentis, GroupEAD, NATS, United ATS, etc... in the Exhibition Area.

Sharing experiences in the Exhibition Area
The commercial data providers such as Navtech, NGA, Jeppesen and AIS/AIM delegates from those countries such as Singapore, Republic of Ghana and England also paid visits to Viet Nam Aeronautical Information Centre.
At the closing ceremony, the President of International Federation of Aeronautical Information Management Associations (IFAIMA) – Mr. Fernando Henriques Lopes expressed high appreciation on enthusiastic support from Viet Nam's leadership as well as Organizing Committee to conduct the Conference. He also expected all that participants would have more useful information about AIS - AIM transition roadmap on a global coverage and made new discoveries about Viet Nam.
Organizing Committee and Supporting Team of the Conference
As informed by IFAIMA, the Global AIM Conference 2016 is taking place at the Capital Rio de Janeiro of Brazil.
Source: vatm.vn